Get Convenient, Flexible Solutions with Storage On-Site's Portable Storage Containers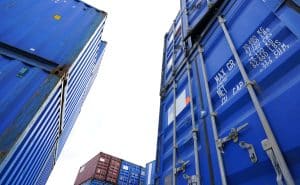 Are you in need of extra storage space for your home or business? Portable storage containers might be the perfect solution for you. They offer convenience, flexibility, and security, and can be used for a variety of purposes.
At Storage On-Site, we provide Indianapolis high-quality portable storage containers that are tailored to your needs.
With portable storage containers, you can have access to your items on-site, reducing the need for transportation. This eliminates the need for an expensive storage locker potentially miles away. You can also rest assured your belongings are safe at all times, especially if your portable storage container is located somewhere you easily can see and access it.
Benefits of Portable Storage Containers
Portable storage containers offer many benefits. You can use them for a wide range of purposes, such as:
Residential moving and storage
Business and commercial storage
Seasonal storage for outdoor furniture, decorations, and equipment
Construction site storage for tools, equipment, and materials
Event storage for equipment, decorations, and supplies
Emergency response storage for disaster relief equipment and supplies
Retail storage for excess inventory and supplies
Athletic equipment storage for schools and sports teams
Agricultural storage for farming equipment and supplies
Government and military storage for equipment and supplies
Why Choose Storage On-Site?
At Storage On-Site, we are committed to customer service and satisfaction. We have over 30 years of experience in providing portable storage solutions and we have worked with a wide range of customers, from individuals to businesses. Our expertise and experience enable us to provide customized solutions that meet your unique needs.
Available Services
We offer a range of services to meet your portable storage needs. Our on-site delivery and pickup make the process easy and convenient for you. We have various container sizes available, from 10 to 40 feet, to accommodate your storage needs. Our climate-controlled storage options are perfect for items that require a specific temperature or humidity level. We also offer customization options, such as shelving and lighting, to make your storage container more functional for your needs.
Contact Storage On-Site for the Best Portable Storage Containers in Indianapolis and Beyond
Are you ready to get started with your portable storage solution? Contact us today to learn more about our services and to schedule a delivery. You can also reach us at (317) 358-0380. Don't wait – take action now to buy or rent a storage container in Indianapolis today.